Aquamarine Crystal- Overview
Aquamarine Crystal is a form of Beryl that ranges in color from light blue to light green. Heat has the ability to alter the hue of aquamarine.
Its hardness ranges on the Mohs scale from 7.5 to 8.
Although there aren't many or any discernible inclusions in aquamarine, it can include seawater, mica, or hematite. Although Aquamarine is common, Maxixe is a more uncommon deep blue variation, however, exposure to sunshine might cause its color to fade.
Aquamarine is a combination of the Latin words aqua, which means "water," and marine, which derives from the marina, which means "of the sea." The year 1677 saw the first recorded use of the word aquamarine.
It is suggested for people born in the month of March. In 1971, Colorado declared it to be a state gem. Due to its color, it has historically been associated with youth and happiness. Its name and color have also caused Western society to associate aquamarine with the sea.
The ancient Romans used this beautiful stone to ward off danger and believed it could safeguard anyone crossing the sea. It was employed by the Chinese to create engravings, figures, and seals and by the Japanese to produce netsuke.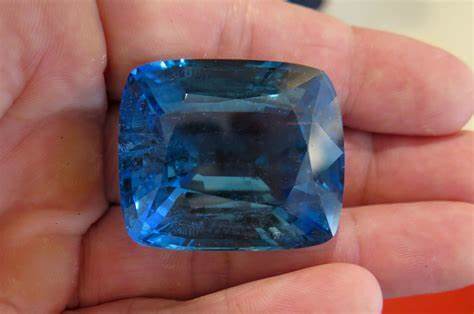 Aquamarine Crystal – Significance
The color aquamarine conjures up images of the sea's thrill and serenity as well as its crystal-clear cleanliness. It promotes honesty, trust, and letting go while being tranquil, soothing, and cleansing.
Aquamarine was once thought to be a mermaid's treasure, and sailors would wear it as a charm to bring them luck, bravery, and protection. It was regarded as a stone of happiness and youth for all time.
Water and the oceans are the subjects of several superstitions and tales that have been passed down over its lengthy history. According to one of these legends, the gem's properties are particularly potent once it has been immersed in water. The gem would be submerged in water on the night of a brilliant full moon to revive it when its purported abilities seemed to be waning.
In the past, sailors in a storm were said to have thrown their Aquamarines overboard as a very last resort in an effort to appease the gods. The stone was treasured in this manner by both the Romans and the Greeks, who referred to it as the "sailor's gem."
Even the Romans believed it could cure stomach, liver, and throat conditions. Additionally, it was believed to provide rains when they were most needed and even to plague adversaries with drought.
It is a stone of symmetry, a stone of prophets, shamans, healers, and mystics, and it promotes meditation and revelation. Additionally, it enables us to have honest, direct conversations with both ourselves and others about the deepest parts of our souls. It transforms into a mirror that perpetually reflects itself, allowing one to explore the deeper truths of existence.
Physical, mental, and spiritual balance and problems can be helped by aquamarine's healing powers. It has the ability to heal both emotional and physical problems. Additionally, it is employed in chakra balance and energy healing. Cleansing the emotional body, facilitating connection, and regulating hormones and growth are some of the therapeutic uses of an aquamarine healing crystal.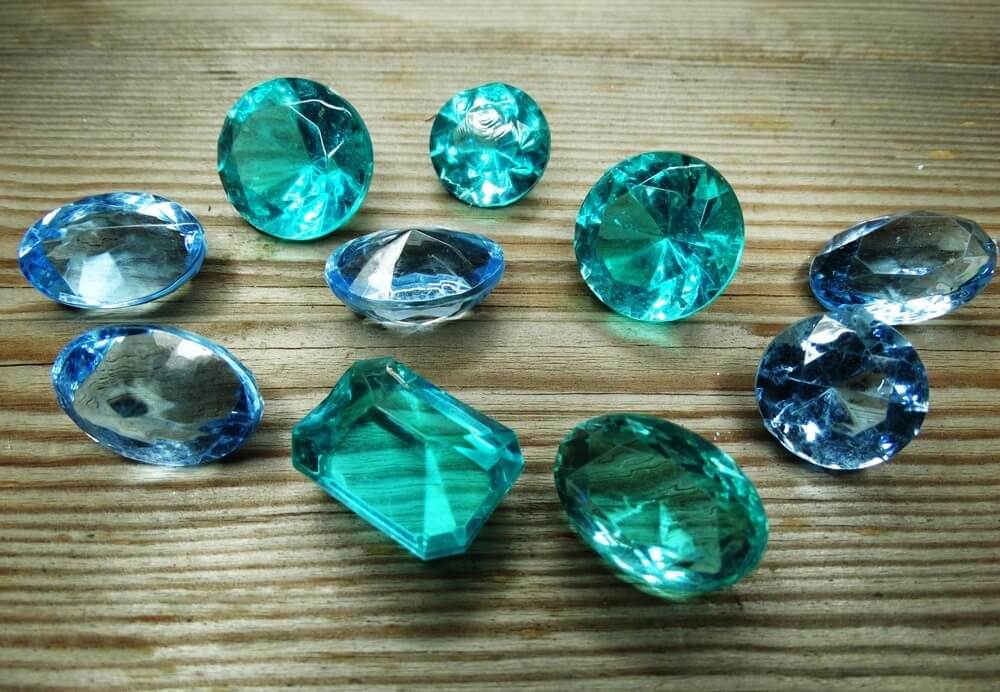 Aquamarine Crystal- Benefits
Breath, the respiratory system, and the lungs are associated with aquamarine. It is efficient for treating hay fever and other chronic allergies, as well as sinus disorders, frequent coughing, and other allergens. It treats bronchitis and colds.
An anti-infection stone, aquamarine is beneficial for laryngitis, strep throat, and sore throats. It balances the thyroid and pituitary, controlling hormones and growth. It helps with gum and tooth problems.
It promotes recovery from all forms of inflammatory disease. Eczema, hives, rosacea, and psoriasis are all relieved by it. Herpes outbreaks may also be avoided with its aid.
Aquamarine applied on the eyelids for 15-20 minutes each night can help with tired eyes and some vision issues. It can be applied on the solar plexus to relieve anxiety spasms.
Extravagant anger or fear can be balanced with aquamarine. Additionally, it can help with the healing of past verbal, physical, or emotional abuse. It is a fantastic stone for kids who have experienced trauma and are acting out violently or who have disconnected from their emotional selves.
It eliminates the aftereffects of overly critical parents who impose unattainable standards and panic episodes that persist into adulthood due to inadequacy and guilt.
For navigating times of change and transition, this stone is helpful. Its purifying energy helps you get over your fear of the unknown by removing resistance. It aids in the removal of physical objects and clutter as well as the release of mental baggage.
The strongest stone for opening and energising the Throat Chakra is probably aquamarine. The communication of one's most profound and emotional truth is made possible by the stimulation of energy from the heart to the throat.
The Throat Chakra is the body's voice and a pressure valve that enables the expression of energy from the other chakras. It can influence the condition of the other chakras if it is obstructed or out of balance.
An good crystal for meditation and the emergence of paranormal powers is aquamarine. It facilitates insights, and according to certain myths, an aquamarine gemstone that faces north allows you to glimpse your guardian angel.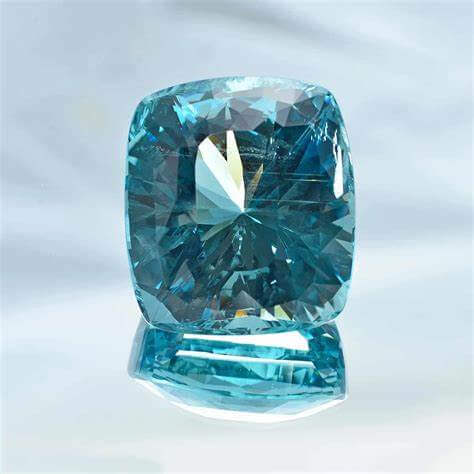 How to Cleanse your Aquamarine Crystal?
Aquamarine is one of the crystals that will most likely require routine cleansing and purification. It is also important to remember that before using your stones for healing, it is crucial to clean them because before reaching you they have gone through so many hands and energies in their making process.
It is also important to energize your crystal after cleansing and before using it.
You should cleanse and recharge your Aquamarine stone even more frequently if you're going through a particularly challenging time or if there are a lot of people who come in contact with the crystal.
You can expose Aquamarine stone to direct moonlight in order to you can cleanse and recharge it. To do this you can simply place your crystal on the ground in the moonlight and let it recharge using the Moon's bright and beautiful rays.
Another method of cleansing this stone is to bury it in the ground for a night and let mother earth soak up all that negative energy from the Aquamarine stone. While doing this you can also set an intention and ask mother earth to cleanse the crystal and transmute that negative energy into positive and loving energy.
Another approach is smoke smudging. Cleanse the Aquamarine with an incense stick or cleansing herbs like sage or palo santo. Do this in a serene area preferably on your altar or meditation space.
There are so many amazing benefits of using this precious Rhodonite but before using this priceless gemstone, you should always seek the advice of Professional Astrologers and gemologists to maximize its effectiveness.
Buy best quality original Gemstones❤️
Get a FREE CALL with one of India's best Astrologers, to know the solution to all your Life's problems, because we know you deserve only the best.