Gomati Chakra Overview
The operculum of a species of rare sea snail belonging to the Turbinidae family is called Gomati Chakra. The Gomati River in Dwarka is one location where these opercula can be found, therefore the name.
Chakra is a Sanskrit word that means "circle" in English. Hindus believe that these Gomati Chakras, which bring success, prosperity, and good health, are holy and auspicious. Children are also said to receive protection from gomati chakras.
Gomati is the name of the river that Gomati chakra is discovered in, and chakra is the word for circular. Other names for it include Cats' eye shells, Naag-Chakra, and Cows' eye shells.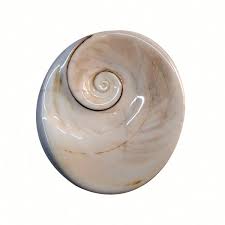 Significance of Gomati Chakra
Small circles can be seen on the flat side of gomati chakras, which are primarily white in color. As a result of their intimate ties to Lord Vishnu, Goddess Lakshmi, and Lord Krishna, Gomti Chakras are regarded as exceptionally lucky and auspicious.
The Gomti Chakras are viewed as the goddess Lakshmi's emblem. Any home where the Gomati Chakras are worshipped is thought to be blessed with wealth, success, and good health.
The Sudarshan Chakra, or Discus, of Lord Vishnu, is similar to the Gomti Chakra. The Gomti Chakras are said to have been a decorative feature of Lord Krishna's mansion in Dwarka, according to traditional Vaishnava belief. Shaligram and Gomati Chakras should be placed together, according to Salagram Kosha, and worshipped at home for great benefit.
According to legend, Lord Vishnu in His Krishna incarnation gave Radha a tree in Dwarka, close to the Gomati River. The tree provided Gomti Chakras rather than edible fruits.
These were a gift from Shree Radha's loving Lord Krishna, and she cherished them deeply. The narrative emphasised the importance of the Gomti Chakras and how Lord Krishna and Vishnu, as well as Goddess Lakshmi, love, revere, and favour them.
Gomti Chakras are worn as lucky charms. They're also used in a variety of rituals. One is considered to be blessed with integrity, wealth, and excellence in all facets of life if they have a Gomati Chakra: In many Vedic rites, Gomti Chakras and Shaligrams are also used to invoke Lord Vishnu's graces.
Many believers also carry good fortune and optimism with them by wearing Gomati Chakras on their bodies. In addition to offering adults money, success, and good health, Gomti Chakras also offer protection to children.
Gomti Chakras can be carried around in purses or pouches or worn on the body as jewelry such as rings, pendants, or bracelets. They can be positioned in an altar, money vault entry, work desk, home, office, or any other location to draw abundance and favorable circumstances.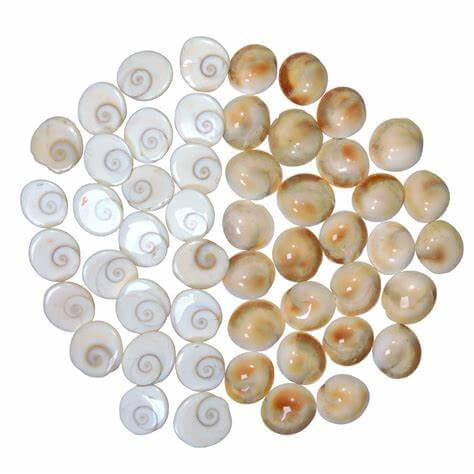 Do you have any questions or issues related to personal life, love life, career, or health? Consult the best astrologers and get answers/ solutions to all your problems based on your own birth chart.
Benfits of Gomati chakra
Gomati chakra attracts Goddess Lakshmi's blessings thereby attracting wealth and abundance.
Just as Lord Vishnu is the ultimate protector of the universe, Gomati Chakras are believed to be blessed with protective powers.
Everybody benefits from the protecting powers of gomati chakras, but children especially do.
Gomati chakra helps get rid of black magic.
Gomati chakra protects against the evil eye effect.
When kept at home, Gomati chakra helps get rid of negative energy.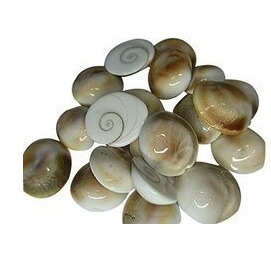 Gomati Chakra Remdies for abundance and protection
Devotees can keep  Gomati chakra in even numbers such as two, four, six, or eight  in their pockets or purse to draw fortune and career opportunities on a routine basis.
Eleven Gomti Chakras, which represent 11 Rudras, the Divine forms of Lord Shiva, according to Vastu Shastra, when buried in a structure's foundation shield its occupants from Vastu Dosha.
Eleven Gomti Chakras should be wrapped in red fabric and kept in a money box that is kept in your home and place of work. This will guarantee a steady flow of money into your life.
Apply turmeric powder to the eleven Gomti Chakras to seek freedom from loans or other money problems.
Keep the Gomti chakra next to a Shiva statue or image and recite any Shiva mantra. Then, wrap these chakras in yellow fabric and encircle the entire house carrying the Gomati chakra in the yellow fabric, paying special attention to the safe. Then, toss the cloth into a lake or a river. This eliminates all financial constraints in life, including loans and other financial problems.
Take three Gomti Chakras, turn them over your head seven times clockwise, then toss them into a lake or river to purge yourself of negative energy and toxicity.
Keep eleven Gomti Chakras wrapped in red cloth in grains or cereal in your kitchen for a steady food supply. You won't run out of food if you follow these routines.
Keep eleven Gomti Chakras in a sindoor /roli box at your Puja altar to promote early marriage and deep connection between partners.
Keep 11 Gomti Chakras in your puja area with 11 little coconuts attached to the chakras with yellow fabric to manifest your desires.
Take eight Gomti Chakras to get rid of black magic. Throw two chakras in one direction after rotating them around the head. Repeat the process with the remaining ones before scattering them in all four directions. Do this ritual on Wednesday to ward off black magic or evil eye effect.
Offer Lord Shiva twenty-one Gomti Chakras in order to gain success and prosperity. This gets rid of everything that stands in the way of progress.
Keep four Gomati Chakra in each of the four corners of the house or in each room for good fortune. It eliminates all of the bad energy from the house.
In order to improve the IQ of your  kids. Keep gomati chakra  near Goddess Saraswati's idol or image and recite the Saraswati mantra atleast 108 times. Make a pendant out of this Gomati chakra and encourage your kids to wear it so that it would improve their memory and cognition when they are studying.
Placing five Gomti Chakras in one's pocket before entering any judicial proceedings can grant the devotee a positive outcome and justice.
Buy best quality original Gemstones❤️
Get a FREE CALL with one of India's best Astro gemologists, to know the best gemstone or crystals for you, because we know you deserve the best.