Moissanite stone- Overview

Moissanite stone looks like diamond and has all the properties of natural diamond stone.  On the Mohs scale, moissanite has a hardness of 9.5, making it the second-hardest material after diamond.
Moissanite stone costs less than a diamond and is governed by Venus. Venus is the planet that gives us wealth, marriage, and luxury. A common issue that the moissanite stone can correct is weak or incorrectly placed Venus in horoscopes.
Silicon carbide is the main component of Moissanite stone. Usually, only very small crystals of this mineral may be found. Usually, little crystals of this unusual gemstone can be found next to meteorites.
Moissanite stone was first discovered in Arizona and has since been discovered in Russia, Israel, and Czechoslovakia. Israel is the location of the largest known naturally occurring moissanite crystals.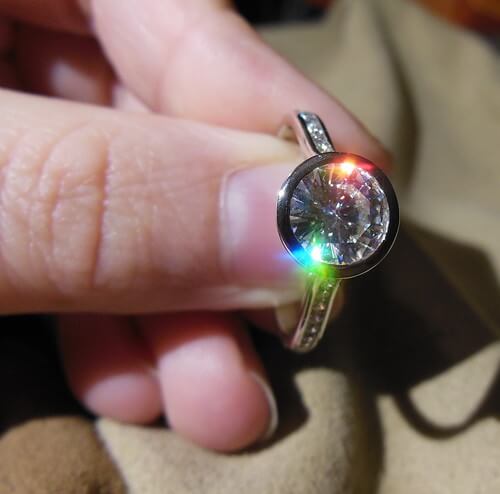 Moissanite stone- Significance
Natural Moissanite stone makes a great stone for contemplation. It helps the person maintain calm and fortifies their inner selves. It brings brightness to all spheres of life. This stone promotes spiritual awakening in life and aids in eradicating inner conflict. It eliminates distress and dispels skepticism.
The shape of Moissanite stone is a hexagon. Rarely, it can be discovered in ultra-mafic igneous rock and iron-nickel meteorites. It resembles a monochromatic diamond and is primarily washy green in tone.
Moissanite stone has a fairly special spiritual and astrological significance. In rock samples retrieved from a meteor crater, the first moissanite was discovered. Many people think that because of this, the stone becomes more of a cosmic treasure, strengthening one's connection to the cosmos.
Moissanite stone is also believed to be capable of reconnecting you with your "inner child," which is something that many people might love.
Due to its durability and strength, Moissanite stone can represent a strong, unbreakable link and a long-lasting partnership when it is put into an engagement ring.
In fact, it is comparable to April's birthstone, a diamond, and can be used interchangeably. So, if you wish to help someone celebrate their April birthday, you could buy them one of the many beautiful Moissanite stone available.
Moissanite stone- Benefits
Because Venus, the planet that governs affluent lifestyles, rules the Moissanite stone, it attracts wealth. Strong Venus in the horoscope aids in achieving all goals and aspirations. Wearing it invites a lavish lifestyle and the fulfillment of all ambitions.
 Moissanite stone is highly suggested for people who want to boost their creativity, imagination, and inspiration. No matter how creative a person is, they can benefit from it.
Moissanite wearers experience less financial stress, luxury and success are attracted to them, and there are more opportunities to generate more revenue. Money issues, such as spending constantly more than you make, can be solved with the help of moissanite.
You become joyful, optimistic, and prosperous as a result of wearing

Moissanite stone.

Moissanite

encourages you to set greater goals and accomplish success and recognition in your industry of choice.
Your personality becomes more endearing, likeable, and magnificent.

Moissanite stone

is a blessing in the love department since it not only draws in the desired spouse but also resolves issues in the love department.

Moissanite stone

is also a good way to keep the spark of romance alive in a couple's relationship and to enhance the link between the married couple.

Moissanite

 gives you the artistic and innovative traits that come through in your personality and work.

Moissanite

 is really helpful for having sex since it lets you experience complete pleasure and addresses both male and female sexual issues.

It

 helps couples conceive and removes challenges, issues, and delays in pregnancy.

Moissanite

 creates emotional equilibrium and guards against hypersensitivity; by drawing in genuine individuals, it keeps you mentally and emotionally content.
It is an unmatched formula for business success; it draws lucrative clients, associates, and company prospects.
Luxuries, conveniences, staff, transportation, and pleasures are all readily available.
It improves your physical appearance and bestows upon you a toned body, lovely features, a fair complexion, and items of beauty.
It prevents you from being without skills and wealth.
Your sense of fashion, taste, music, and communication all get better as a result.
It helps you leave a good impression wherever you go by making your personality distinctive.
Your aura is purified by the grace and positive energy of this stone.
You can fulfill all of your worldly desires with the help of this mystical stone.
As a healing stone, it heals conditions including diabetes, kidney illnesses, eye-related issues, skin issues, and difficulties with the adrenal glands. It keeps you in good health so you can take full advantage of life's pleasures.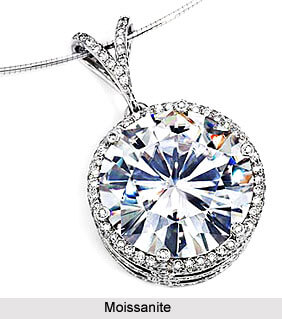 Things to Keep in Mind Before Wearing A Moissanite stone
For those with a Taurus, Gemini, Virgo, Libra, Capricorn, or Aquarius ascendant, wearing a

Moissanite stone

is the best option.
The ascendant signs of Aries, Cancer, Leo, Scorpio, Sagittarius, and Pisces may wear a

Moissanite stone

but only under specific circumstances and after consulting an astrologer, otherwise its best to avoid wearing

Moissanite stone

.
It is not advised to wear it if Venus becomes the lord of the second or seventh house because it becomes the "Marak planet" and can harm you.
Avoid wearing a

Moissanite stone

if Venus is the lord of the 12th house.
Before wearing

Moissanite stone

, it's crucial to energize and activate it.
Chant "Om Shum Shukraye Namaha Om" 108 times before putting on the stone to fully energize it and get the most out of it.
The most frequent error made by astrologers when suggesting any gemstone is that they either recommend gemstones of planets in Kendra (houses 1, 4, 7, and 10) or for Trine (houses 1, 5, and 9) without knowing the entire implications and periods (Dasha, Bhukti).
A gemstone can function as a two-way street. Both the positive and negative effects of the planet in question are strengthened by it. Therefore, the

Moissanite gemstone

will intensify the beneficial benefits if Venus is in a favorable position. On the other hand, if Venus is in a malefic position in the horoscope, the stone's strength will work to amplify the effects of the malefic placement.
If Venus is not too unfavorable in the horoscope, wearing a

Moissanite

 will not have any negative effects. Venus's periods/dasha should also be kept in mind because that is when a planet produces the most effects, whether positive or negative (Maha Dasha, Bhukti, Antara dasha).
Only after properly analyzing the birth chart is it appropriate to wear any type of gemstone, including

Moissanite

. Once any potential negative effects have been ruled out, it should be worn.
Moissanites are a wonderful gift and are a look alike of diamonds but cost way less than diamonds do. So, gift yourself or your loved one a Moissanite stone today.
Talk to the BEST Astro-Gemologist, to Know the BEST gemstone for you according to your Birth chart, because you deserve only the Best.