Tiger's Eye stone- Overview
Tiger's eye stone, commonly known as tiger eye, is a chatoyant gemstone that often takes the form of metamorphic rock with a silky gloss and a golden to red-brown tint. The silky, shiny appearance of the tiger's eye stone and the blue crystal hawk's eye, both members of the quartz group, is due to the parallel intergrowth of quartz crystals and altered amphibole fibers that have primarily transformed into limonite.
Astrologically speaking, tiger's eye stone is Ruby's substitute. It has an optical reflection effect and is a healing gemstone. The stone tiger's eye is frequently used in jewelry making. tiger's eye stone is typically available in dark yellow colors. The stone is reputed to fend off the evil eye in several cultures.
Australia, Burma, India, Namibia, South Africa, the United States, Brazil, Canada, China, Korea, and Spain are typical places to find the tiger's eye stone.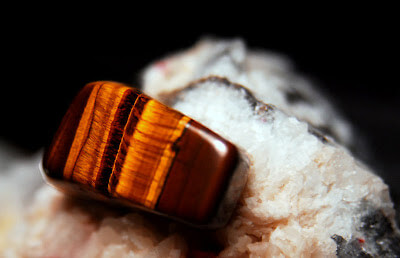 Tiger's Eye stone- Significance
Tiger's eye stone shows strength, morality, and the effective application of authority. It was carried by Roman troops to deflect weapons and display bravery in conflict. It has long been revered as a stone of wealth and fortune, guarding one's possessions and reflecting back dangers or suspicious attacks from others.
The chatoyant layers of the Tiger's eye stone magnificent stone of the Gold Ray, which dance like beams of sunshine through a thick forest, are still as alluring as they were in the past. It brings balance and consciousness while integrating the spiritual and material worlds.
It is bright and brilliant, fusing the frequencies of the Sun and Earth.
Tiger's eye stone is a fantastic ally for the mind, bringing emotional extremes into balance and enabling jumbled ideas, emotions, and knowledge to make sense. One can make decisions based on reason rather than emotion thanks to Tiger's eye stone capacity to deliver steadiness and focus.
Tiger's Eye is perfect for people who are aimless and unable to commit to anything, as it inspires hope and confidence in the future in those who struggle to maintain optimism.
It encourages harmony amongst those with differing worldviews, religious convictions, or way of life approaches to consider both sides of an issue and find common ground. It is a wonderful talisman for trained mediators as well as for everyone engaging in challenging disputes.
It promotes moderation between extremes, helps one transcend the dichotomy of good and evil, dark and light, and gives insight into the underlying unity that lies beneath what appear to be apparent opposites. It helps one to rationalize decisions in a more realistic and compassionate way and enables one to reflect Spirit in all of one's deeds.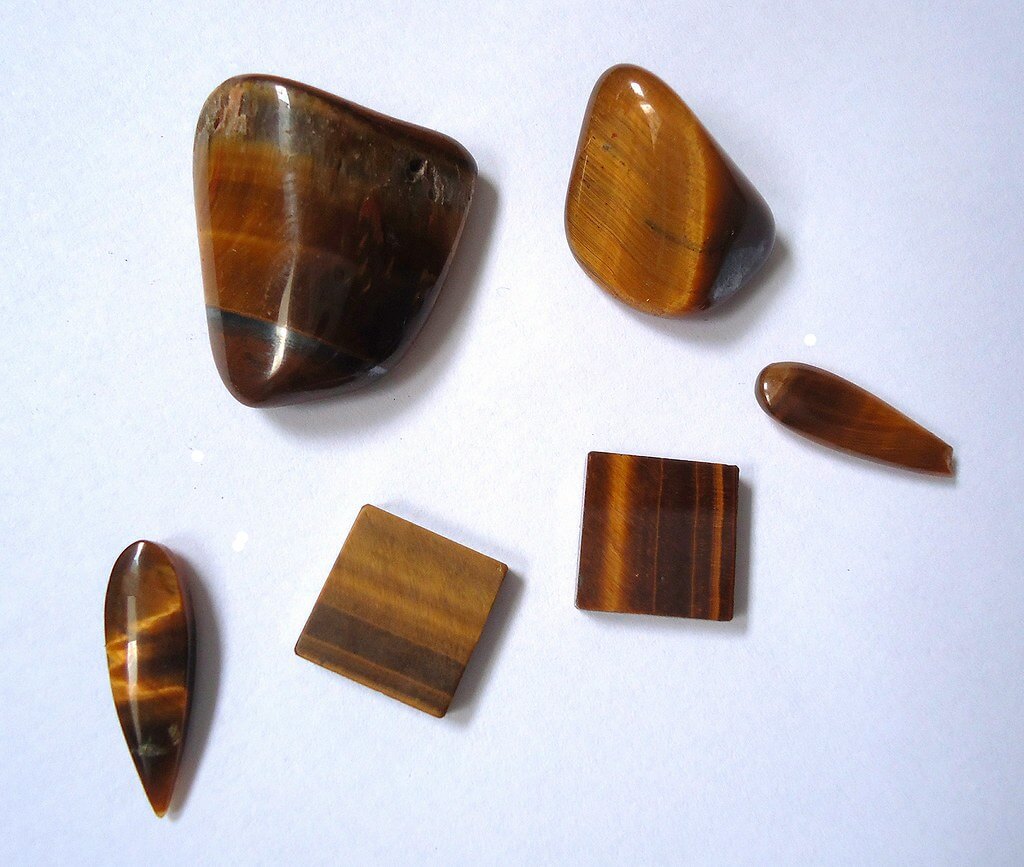 Buy best quality Tiger's eye stone
Benefits of Tiger's eye stone
Tiger's Eye is prepared to protect, sharpening one's inner vision and improving comprehension of the causes and effects of each circumstance. It promotes judicious use of one's abilities and enables the fusion of disparate pieces of knowledge into a coherent whole. Tiger's Eye encourages required change in all facets of a person's life, fortifying their resolve and intention in order to achieve their best potential.
It encourages innovation and the use of one's skills and talents, and it is excellent for promoting wealth and the sound judgement required to keep it.
To draw a regular stream of money into the home, keep a Tiger's Eye as a lucky charm. It is perfect for business owners and people just starting out, as well as for people honing their abilities and expanding their knowledge in preparation for significant career transitions in the future.
Tiger's Eye exhorts wearers to test their physical prowess, artistic and creative talents, and willingness to attempt new things by urging them to avoid being complacent and to think outside the box.
Tiger's eye stone helps to maintain resolve and face fears when presenting ideas at crucial meetings or performing publicly.
Wear or carry Tiger's Eye to improve perception and understanding in new situations.
Tiger's Eye sharpens the senses, enabling one to focus on specifics and get ready to take constructive action. It provides a comprehensive picture and is useful when things are moving too quickly.
Tiger's eye stone is one of the best tools for handling a crisis and offers ideal support when one is worried about choosing the wrong course of action.
Wear tiger's eye stone for rapid decision-making, assessing a person's character, and becoming aware of the effects of one's own actions.
When implementing lifestyle changes and health improvement practices, use Tiger's Eye to increase resolve, emotion regulation, and energy levels. Tiger's eye stone helps to lessen the urge for binges, excessive smoking, alcohol, drug therapies, and the inappropriate kinds of foods.
Additionally, it eases anxiety brought on by loneliness or inferiority and aids in overcoming despair to keep faith over the long term.
Tiger's eye stone is known for calming tensions in families and relationships where ideological differences or expressions are causing strife. It is a stone of realism and balance.
It is very helpful for resolving conflicts and internal struggles, particularly those brought on by envy, stubbornness, and pride. It instills morality and the proper use of authority, as well as an awareness of one's own needs and that of others.
Tiger's eye stone works wonders for resolving self-worth and self-criticism problems, and it frees up the creative process so that one may see both their strengths and weaknesses. Tiger's eye stone increases one's personal willpower to bring about positive change and establishes that change in the physical body.
Tiger's eye stone aid in elevating principles of dignity and self-worth.
The virtues of endurance and compassion, as well as other spiritual traits, are very strongly associated with Tiger's eye stone.
When this is worn in close contact with the skin, it encourages inner tranquility and lifts one's spirits.
The Tiger's eye stone is used to treat bone tissue injuries and skin conditions.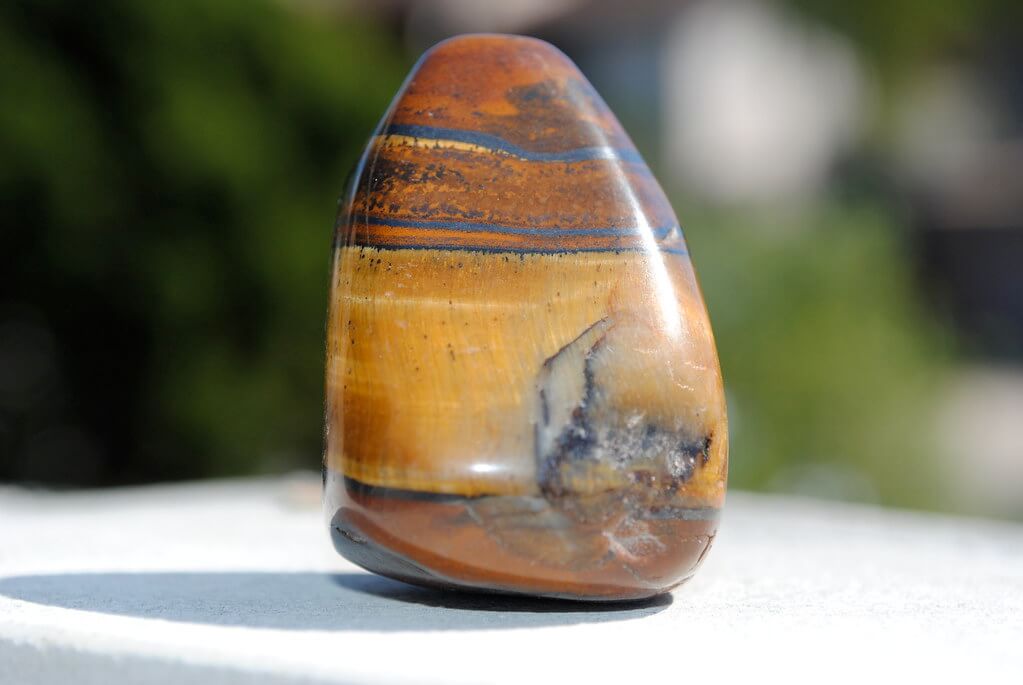 Thing to Keep In Mind Before Wearing Tiger's Eye Stone
To receive these advantages, you must wear a gemstone with the proper color, size, shape, and carat weight.
Tiger's eye stone can be worn as jewelry that allows the stone to come in direct contact with your skin.
Tiger's eye stone must be set in gold or panchdhatu with a portion of the Tiger's eye stone touching your skin for maximum results.
Wear Tiger's eye stone early in the day, close to sunrise, in the Shukla Paksha.
Wear it on the ring finger on any Sunday during Shukla Paksha in the morning.
Follow these steps to cleanse, energize, and activate the Tiger's eye stone.
Dip the ring in Gangajal water, honey, tulsi, unpasteurized milk, and ghee.
Recite the Surya mantra 108 times: Om Suryay Namah or Om Ghrini Suryay Namah
After energizing the Tiger's eye stone remove it from the bowl, wash it with Gangajal and wear it.
For the Leo sun sign, Tiger's eye stone is the birthstone.
To benefit from Tiger's eye stone astrological properties, its carat weight must be suitable for the wearer. In order to select the appropriate carat weight based on your birth charts, you should consult an astrologer.
The most crucial element, in this case, is selecting the ideal gemstone. Making the wrong decision can utterly destroy your chances of leading a prosperous and tranquil life because Tiger's eye stone is a powerful stone, and it can backfire if it's unfavorable for you.
Before using this priceless gemstone, you should always seek the advice of Professional Astrologers to maximize its effectiveness.
Buy best quality original Gemstones❤️
Talk to the BEST Astro-Gemologist, to Know the BEST gemstone for you according to your Birth chart, because you deserve only the Best😍.